Why work at BigSteelBox?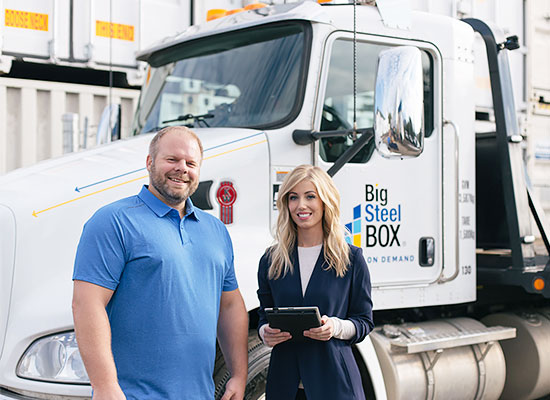 At BigSteelBox, our company purpose and values are extremely important to us. They are considered with every decision we make, big or small, and they impact everything we do from our daily operations to major endeavours.
It's extremely important that the people we hire believe in our purpose and values as much as we do.
If you've read our company values, you'll have noticed that "We love our family" is at the top of that list. At BigSteelBox, the entire staff is a family. Hearing words like "love" and "family" may seem like an odd thing for a moving and storage company, but we're not like most companies.
This value is important on many levels. We believe we must truly care for each other in order for us to care about our customers and provide the level of service they deserve. Plus, we want you to love coming to work every day!
Here are some of the highlights of what you can expect from working for BigSteelBox:
Health and Safety
The health and safety of our staff and customers is our number one priority at our offices, in our storage yards, on the road with our trucks, and during deliveries to our customers. We work very hard to provide and maintain an environment with the highest health and safety workplace standards so that every employee goes home safe each and every night.
Compensation
We provide competitive compensation. We compare our salaries to the market annually to ensure we're keeping up with the industry. Salaries are based on a number of factors, including the role you will be performing, as well as your performance, experience, education, skills and abilities.
Benefits
We offer a competitive benefits package that provides the following:
Extended healthcare
Dental, life, accidental death & dismemberment coverages
Emergency out-of-province medical coverage
A matching RRSP program after 3 months of service
A confidential Employee Assistance Program
Career Development
We are prepared to invest in your career development and growth. We support this in a number of ways:
Online learning via BigSteelBox University
Job specific training and personalized development plans
Annual development reviews
A tuition reimbursement program
Other cool perks to working for BigSteelBox
In addition to growing the knowledge and experience as it applies to your job, we also feel it's important to support your personal growth. This part of BigSteelBox is always changing, evolving and improving, but here are some of the cool things we currently offer to all staff:
Care Forward Program: This program is supported by the combined monetary donations from staff and the company. It's a completely optional program where you can choose to contribute as much or as little of your on-going pay cheques to a fund that is there to assist fellow employees in unplanned times of need. BigSteelBox staff can anonymously apply for the support of this fund should they find themselves in an unexpected and difficult financial position.
2 Paid Volunteer Days: BigSteelBox supports a number of charities and organizations such as Habitat for Humanity Canada, the Salvation Army and local food banks across Canada, but we also encourage staff to support local causes and charities that are close to their hearts. You are encouraged to discuss volunteer opportunities with your supervisor and take advantage of the 2 paid days off you get each year to give back to your community.
Active Living Allowance: Your physical health is so important! As such, we provide an allowance to use towards something that will keep you moving and fit. From a gym membership, to new exercise equipment, to new running shoes, we want you to stay healthy, so we're prepared to put our money where our mouth is and support your fitness goals financially.
Certified as a Great Place to Work®: Since 2022, BigSteelBox has been Great Place to Work® Certified™. We were also named as one of the Best Workplaces with Most Trusted Executive Teams, Best Workplaces for Giving Back and Best Workplaces for Today's Youth. This was achieved after a thorough, independent analysis of a workplace was conducted by the Great Place to Work Institute® Canada. This certification is also based on direct feedback from employees.
Ready to apply for your new career at BigSteelBox?! Head over to our Careers page for current job opportunities and apply online.