Career Opportunities at BigSteelBox
We're always looking for motivated and energetic people to add to our expanding BigSteelBox family. Our head office is located in Kelowna, BC, but we have stores across Canada in BC, Alberta, Saskatchewan, Manitoba and Ontario.
At BigSteelBox, our company values inspire us to deliver an exceptional customer experience and respect and value our colleagues. Learn more about our Company Values.
We're also proud to have been certified as a Great Place to Work® and named as one of the Best Workplaces with Most Trusted Executive Teams, Best Workplaces for Giving Back and Best Workplaces for Today's Youth.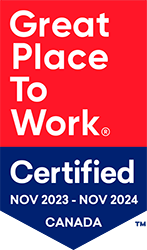 This certification is awarded after a thorough, independent analysis is conducted by Great Place to Work Institute® Canada. It's also based on direct feedback from employees, provided as part of an extensive and anonymous survey about their workplace experience.
"A great workplace is about the level of trust that employees experience in their leaders, the level of pride they have in their jobs, and the extent to which they enjoy their colleagues," says Nancy Fonseca, Senior Vice President of Great Place to Work® Canada.
So, what are you waiting for?! Take a look at our current career opportunities below. You can also follow our BigSteelBox Careers Facebook Page for instant notifications of new job postings.
---
There are currently no career opportunities at BigSteelBox, however, be the first to know about new job postings by following us on Facebook or LinkedIn.
---