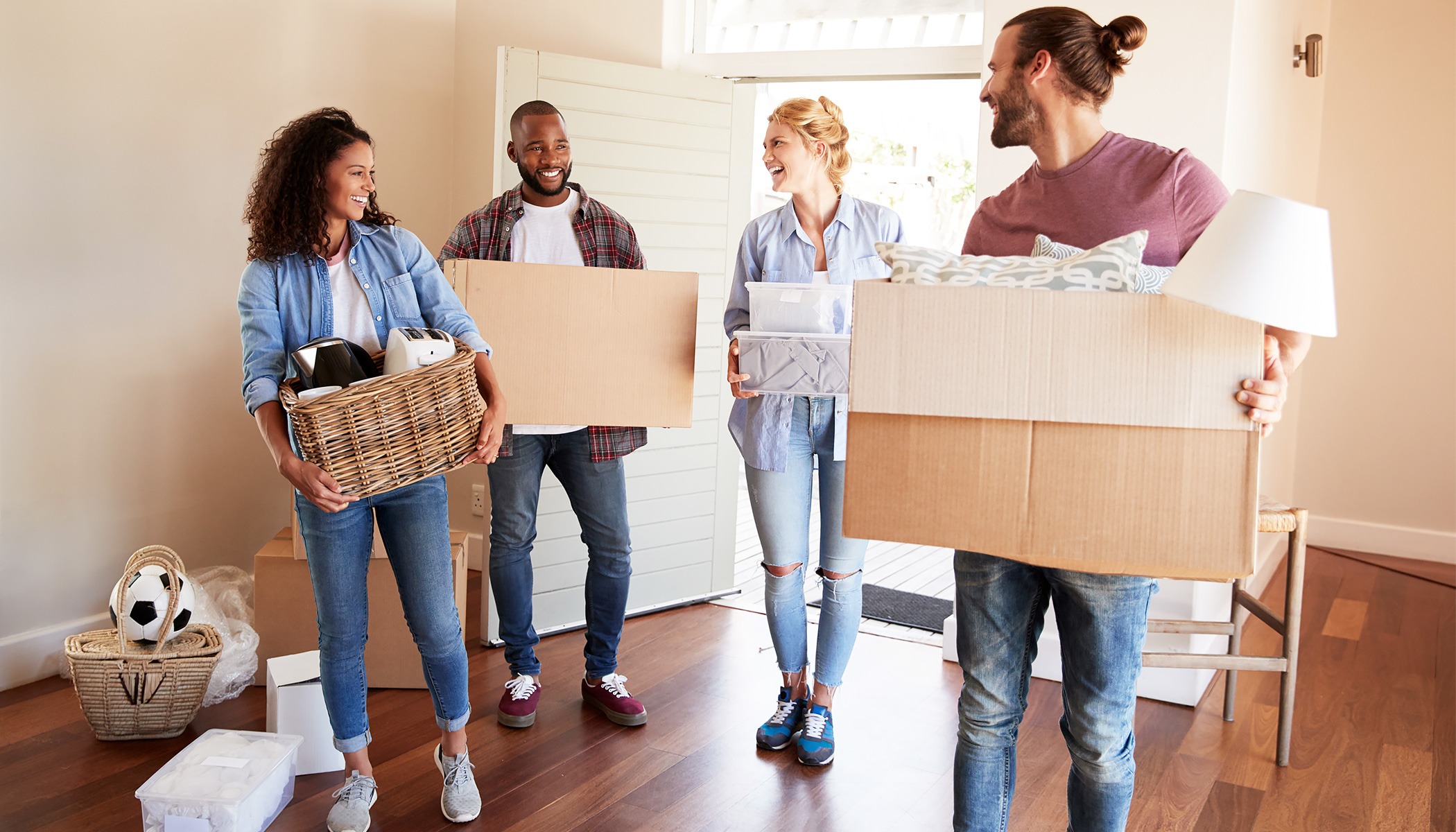 Packing 101: How To Set Yourself Up for a Smooth Move
We're not going to try to convince you that packing is fun, but it doesn't have to be a descent into madness either. If you're wondering when or how to start packing for your move, follow these tips for a packing experience that's efficient, saves you time, protects your stuff, and just feels better!
Start Packing Early
Everyone underestimates how long packing will take. Giving yourself more time is one of our biggest stress relieving tips, and one of the benefits of renting a BigSteelBox (you can receive your moving container days or even weeks ahead of your move and start loading it up well before moving day!) Start with rooms and possessions you know you won't need between now and moving day: basement, guest room, and seasonal clothes and items (BBQ's, patio furniture, snowboards, etc).
Packing Tools of the Trade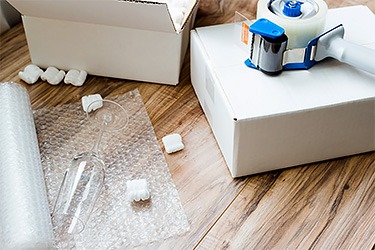 Make sure you have everything you need before you start packing so you won't hit any roadblocks by having to stop and run out and get more supplies. That means stocking up on cardboard or plastic moving boxes, packing tape, labels, packing paper and bubble wrap – you'll likely need more than you think!
FYI, we sell packing supplies from most of our locations, such as cardboard boxes, moving blankets and ratchet straps. So, if you decide to move with a BigSteelBox, we can makes things even more convenient by delivering your supplies with your container.
Does it Spark Joy?
A move offers a great excuse to think about what you're actually going to use or wear in the future. Haven't worn that mock turtleneck in 2 years? Haven't snowboarded since the early 00's? That's a good sign that you can probably lighten your load by selling some of your stuff or donating them to a friend, neighbour, or worthy cause.
All About That Box
The moving box can be your best friend or worst enemy. This is where many of your treasured possessions are going, so we recommend passing on the beat-up liquor store boxes and treat yourself to double-ply cardboard boxes or plastic totes or containers that are designed for moving.
We sell a variety of packages of cardboard boxes in three different sizes, so you can pick them up in advance or have delivered along with your BigSteelBox. Ask your BigSteelBox Storage Consultant for more information about that.
Personal Delivery – Use Your Luggage
You're bound to have fragile or valuable items that you prefer to move yourself. Consider packing those in a suitcase – they're well cushioned, easy to carry or roll, and you'll be killing two birds by moving your suitcases at the same time.
Think Inside the Box
When you're packing, try not to leave any space in your boxes. Space gives your possessions room to rattle around and potentially break. Fill those spaces with newsprint, towels, bubble wrap or even socks for extra cushioning.
Packing Clothes – Hang in there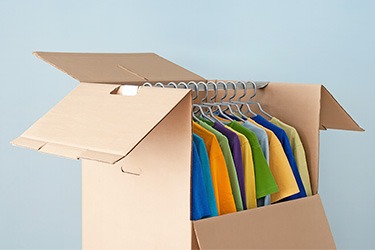 Speaking of moving boxes, a wardrobe box can be a real timesaver when packing up your closets!
Wardrobe boxes are quite tall and come with a built-in metal hanger rack that allows you to easily transfer clothes directly from your closet into the box before sealing it up. By keeping your clothes on hangers, they won't get wrinkled in the move. No ironing required – now that's a win!
Out of the Box TV Packing
Your home electronics will be among your most expensive possessions, so take extra care packing them. After all, nothing spoils the excitement of moving into a new home like unpacking a cracked flatscreen TV!
If you kept the original box your TV came in, great – pack it back in that box. If not, you can buy specialty boxes for packing TVs. For a DIY solution, wrap a microfibre towel or blanket around the TV to ensure it doesn't get scratched. Wrap that up with antistatic bubble wrap, then place the TV in a box or reinforce the sides with sheets of cardboard.
Learn more about how to pack your electronics!
---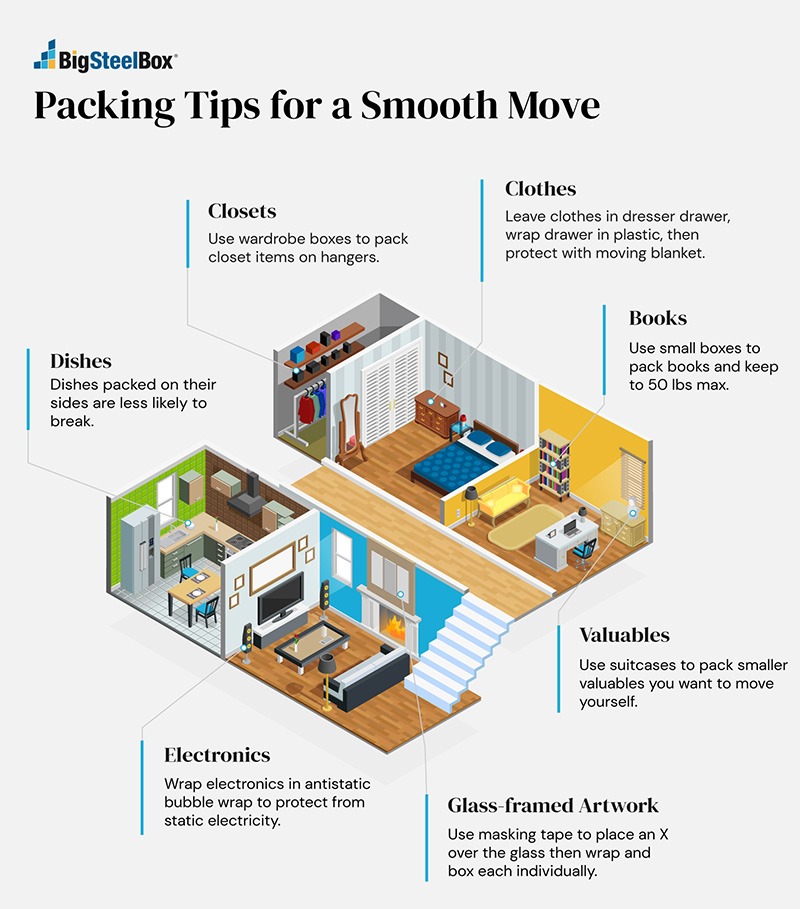 ---
More 'Pro' Packing Tips for a Smooth Move:
The Art of Packing Artwork
Artwork is one of the trickiest things to move – each piece is a different size, and few will fit into your moving boxes. But artwork can be expensive or at least have strong emotional value, so let's make sure we get them to your new home intact.
If your picture or artwork is framed in glass, use masking tape to make an 'X' on it from corner to corner. This will help hold the glass together if it does get broken and help avoid it puncturing or scratching the artwork. Pieces that aren't protected by glass should be wrapped in plastic wrap. To provide extra protection you may want to purchase cardboard corner protectors for your frame. Then wrap the whole package in bubble wrap and seal with tape. If the piece is going into a box, use newsprint to pad the space around the artwork.
Required Reading – How to Pack Books
One of the big surprises of moving is inevitably realizing how much your books weigh! So, make sure your boxes are strong and up to the task. Reinforce the bottom seams with extra tape and line them with paper to prevent heavy books from shifting weight, or consider using plastic bins.
Pack by size: Books come in all shapes and sizes, which makes packing them together complicated. So group them by size and you'll have less wasted space in your boxes.
Pack by weight: To prevent lighter books from getting crushed or damaged, pack heavy ones on the bottom.
Packing Your Kitchen – A Recipe for Success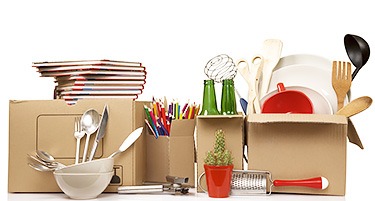 A kitchen takes a long time to pack since so many of its contents are fragile. Starting early will relieve you from added stress here. Think about what you can do without for a few weeks and pack it up early (fine china, waffle irons, baking pans and dishes, etc).
The goal in the kitchen is to make sure boxes are very well padded and packed tight to prevent shifting and breakage. Much like books, the weight of dishes can add up quickly. So you'll want to use specifically designed, reinforced china cartons, and then reinforce the bottom seals with tape.
Use crumpled paper balls to create a layer on the bottom of every box to absorb any impact. Fill any remaining space with crumpled paper so that when you move the box you don't feel anything shifting inside (towels are also a good option when packing dish ware). And remember to label your dish boxes "Fragile"! Get more tips about how to pack fragile kitchen items!
Pack a Priority Box
Finally, you're bound to have essentials that you'll be using right up until your move, and will want access to as soon as you get into your new home. Pack these in a box labeled "Pack Last, Unpack First" and it will be easy to find when you arrive. Consider including these items: Scissors, screwdriver, drill, snacks, sanitizer, toiletries, toilet paper, hand towels, and a phone charger.
Packing & Moving That Feels Better
Making sure your possessions get safely from one destination to the next is what BigSteelBox is all about. When you book a BigSteelBox for your move, you'll have it for at least a month, giving you plenty of time to pack and unpack at your own pace. And since you're loading your container yourself you know your possessions will be handled with care.
We've also got more packing tips and our ultimate moving checklist to help make your next move the smoothest yet. Want more expert moving tips? Check out MovingWaldo's top 10 tips to become an undisputed master of moving.
For more advice, or to request a free moving quote, contact us today at 1-800-373-1187 or online.